Custom backup to fit
your individual needs
Quote
Need more space?


Unlimited Computers
Windows / Mac / Linux
---
All Blue Cactus Pro features plus:
---
Extra storage space
---
Dedicated Storage

Secure managed offsite remote backup services for businesses who have large amount of data to back up.
---
Consulting

Our customer support team can assist you in reviewing your current IT infrastructure, identifying your critical data and understanding your backup requirements. We can propose a plan that fits your situation.
---
Custom in-person install

Our technical professionals can help you install and configure the software on-site, so that you can start backing up your data quickly. (Available in certain areas.)
---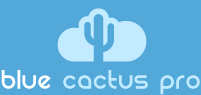 Online backup for all your
business computers and servers
Starting at
$10
PER MONTH
10 GB
Unlimited Computers
Windows / Mac / Linux
10 GB –
50 GB –
100 GB –
200 GB –
250 GB –
500 GB –
1 TB –
$10/month
$25/month
$50/month
$100/month
$125/month
$200/month
$400/month
---
All Blue Cactus features plus:
---
Unlimited computers, servers, external
drives and NAS devices
---
Bare metal backup
(requires local backup)

This allows you to restore your Windows system on a brand new computer even though it is with a different hardware configuration as the failed one.
---
Seed-load utility

The Seed-Load Utility of Blue Cactus Pro provides a much faster alternative way to transfer large backup data (usually during the first backup job using the hard drive delivery service) onto the backup server without having to upload the data through the Internet.
---
PCI / HIPAA compliancy
---
Hard Drive delivery service

To quickly replace large amounts of data, a hard drive will be shipped to you at $175 + hard drive + shipping.
---

Online backup for all your computers

Starting at
$6
PER MONTH
50 GB
1 Computer
Windows / Mac
50 GB –
150 GB –
250 GB –
500 GB –
1 TB –
$6/month
$10/month
$15/month
$30/month
$60/month
---
Complete, automatic, and incremental backup
---
Backup locally
---
Single file restore
---
Continuous data protection

This feature captures every version of a file that has been saved to your hard drive. Whenever there are changes made to the files in the backup set, it will automatically back up the changes to the server immediately.
---
Anytime, anywhere access
---
Easy file recovery
---
256 bit SSL transmission & bit encryption

All data will be compressed and encrypted with 256-bit encryption with a key selected by the user before being uploaded and stored on the backup server. This security meets HIPAA requirements for compliancy.
---
U.S. based support
---